Verizon Wireless Users, Please Come Back!
After getting absolutely nowhere with Verizon Wireless technical "support" for two months, spending hours on the phone with reps who knew less about Internet Protocol than I do—which is pretty pathetic—and tearing half my hair out, I believe the problem with Verizon Wireless users having difficulty accessing the Tripawds Blogs and Forums has finally been resolved, once and for all. At least so far…
We've been using our Verizon Mifi to successfully manage Tripawds and the other websites we host for about a week now, which has been impossible to do for the last couple months due to packet loss I identified using traceroutes from our server. Don't worry, I'm not going to get all technical again. Pardon my French, but this shit is above my pay grade, and the debacle deserves at least a little cussing.
Never mind what I feel like telling all those "techs" who insisted it was a "problem with our site," or that our "IP address is bad."
Instead, I'd prefer to put this behind us, and hop on. Thank you Jerry for teaching me to Be More Dog.
What happened and how did we fix it?
After making a stink on social media, I thought I was finally getting the attention of somepawdy at Verizon who could help. Apparently not.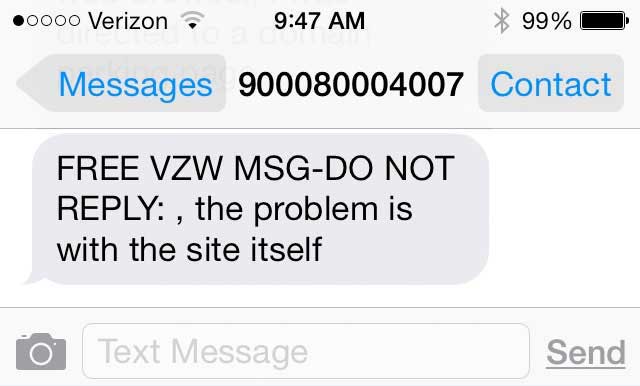 Only after escalating the issue to Executive Management did I speak with someone who, "sincerely wanted to help get this fixed." I discovered how to contact your Regional Verizon Wireless President, and didn't expect to hear back from him directly, if at all. So I didn't get my hopes when the woman I spoke with acted very diplomatic and promised to put me in touch with a network engineer. The next day, however, I was elated after receiving a call from a network tech at their Technical Advisory Group who actually admitted there was clearly a problem and promised to get to the bottom of it.
To make a long story short, I spent the next week on the phone working directly with a number of technicians who worked their magic while running live trace reports on my device while connected to our server. They identified a problem with packet/data optimization Verizon performs that was not working properly for certain network traffic. Lucky us!
They also apologized for the prior lack of support I had received, and we had a good laugh at some of the responses I was given during my many previous pleas for help.
This whole ordeal would be funny, if it wasn't our sites, and Tripawds users who were being affected. If you use a Verizon Wireless device to access Tripawds—and you can read this—please let us know if you're still having any trouble. If you know any other members who may have given up in frustration, please tell them to try again.
And if you appreciate the efforts and persistence that went into getting this resolved, please consider Supporting Tripawds! Had I given up, I'm certain the problem would remain today.
Never Give Up, is just one of the important Life Lessons Jerry Taught Us.
Hopefully this is the last you will hear from me about Verizon Wireless, packet loss, and tracreoutes, oh my!
</rant>