Tripawds is a user-supported community. Thank you for your support!
On Wednesday, January 18th thousands of web sites will go dark to protest SOPA & PIPA, two US bills racing through Congress that threaten prosperity, online security, and freedom of expression.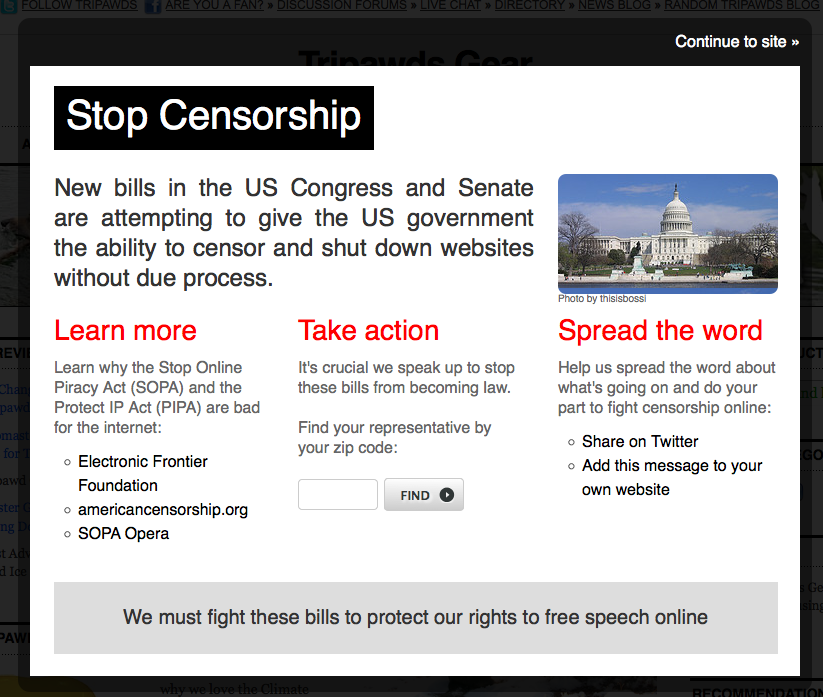 To join this effort to spread awareness about this vitally important news, two plugins have been activated across the Tripawds network:
Stop SOPA Ribbon
Help stop American Consorship by putting a ribbon that says Stop SOPA on your WordPress site or network.
Stop SOPA Widget
This plugin adds a widget that will show a modal window to increase awareness about SOPA/PIPA on Jan 18th.
Due to the sensitive nature of this community and the helpful resources all our blogs and discussion forums provide, we will not be shutting down the Tripawds network in protest. These plugins, however, shall remain activated to help us show our solidarity by doing the following.
As of now, all sites throughout the Tripawds network will display the Stop SOPA ribbon in the top right corner.
The Stop SOPA pop-up message shall display on all sites during the scheduled SOPA protest blackout time on January 18th from 8am-8pm EST (1300-0100 UTC). It is easily dismissed and will only be shown to each visitor once.
We shall keep these plugins network-activated through January 24, when congress votes on SOPA and PIPA. The pop-up message will only display during the scheduled strike but you can show it anytime until the 24th by adding #stopsopa to the end of any link to your blog like this:
Please help us put an end to these bills before they become law and end the internet as we know it.
Feel free to comment below, or chime in on this discussion about SOPA. But better yet, contact congress now!