Tripawds is a user-supported community. Thank you for your support!
One of the new features we added during the recent News Blog makeover, was the ability to search all Tripawds Blogs.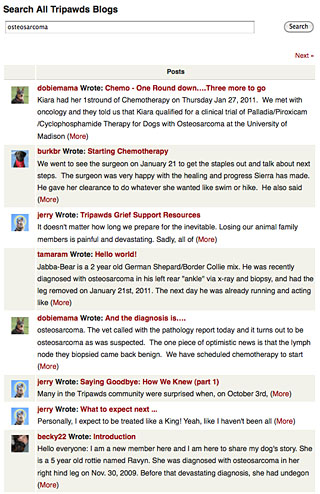 Previously, members and guests of the Tripawds community could only search individual blogs, one at a time. Now all posts are indexed and searchable from Jerry's Site-wide Search page in his Tripawds News blog.
This helpful functionality is now possible thanks to our Global Site Search plugin from WPMU Dev.
The plugin is not new, we've been testing it for a while. But it is now compatible with our SimplePress forums! It will not return search results from forum topics, but it no longer breaks the forum hierarchy, so we were happy to deploy it to make searching the Tripawds Blogs easier for everyone.
How To Search All Blogs
With more than 500 blogs and counting, it is now easier than ever to find what your looking for in the Tripawds WordPress multisite community.
Search All Blogs: Visit the Tripawds Site Search page to easily search all blogs at once. Results will be displayed with the post title, link, excerpt, author's name, and the members user avatar. Please visit WPMU Dev for complete details about the Global Site Search WordPress multisite plugin.
Search the News Blog: In the sidebar of the Tripawds News blog you will find a search box that returns keyword results only from all of Jerry's posts and pages.
Search the Tripawds Forums: Use the Tripawds Discussion Forums search function to find keywords, topic titles, or tags from more than 3,700 topics and nearly 50,000 posts (as of this writing).
Search Individual Blogs: If a Tripawds blog you're reading does not have a search box in the sidebar, type the following into your browser to search all posts on that blog…
http://blogname.tripawds.com/?s=keyword
Substitute "blogname" with the subdomain of the blog you're searching, and "keyword" with whatever you're searching for. To search for multiple keywords, separate them with a plus symbol like this…
http://blogname.tripawds.com/?s=multiple+keywords
Here's an example: http://killbarney.tripawds.com/?s=jerry+video
Any questions?
Stay tuned for details about how to search for Tripawds blogs and members – two more new features we recently implemented thanks to our WPMU Dev Premium membership.