Within minutes of announcing the new Tripawds admin bar menu in the tech support forum, one member replied…
Very nice…much easier to navigate!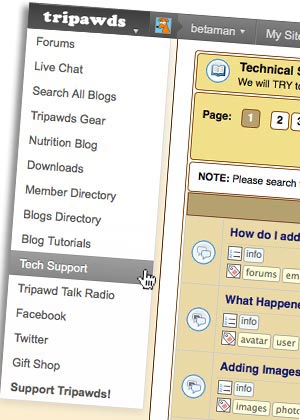 Thanks Meghan! That was our goal with implementing this new custom admin bar menu – to help users navigate the site, whether they are searching the forums, watching videos, chatting or browsing blogs.
The WordPress Admin Bar is the grey stripe visible to logged in members which includes menus with links to various user account and blog administrative tools. Now users will notice a new menu to the far left of the bar, no matter which blog they're viewing.
Hover your mouse over "tripawds" at far left to expand the menu for easy access to some of the most popular resources this community have to offer. Don't see the Admin Bar? Register today to take full advantage of this network!
How To Add Custom WordPress Admin Bar Menu
For WordPress multisite network administrators interested in how we did this, it's simple with the free Custom Admin Bar Menu plugin from WPMU Dev. Sure, you could hack functions to remove or add links to the admin bar, but why bother? If you're looking to add a whole new menu, this plugin makes it easy.
As usual, the team at WPMU Dev has created a sleek interface which allows for easy set-up and configuration. The plugin works with single WordPress sites and any multisite network.

Adding and sorting links is easy sort with the drag and drop interface. And you can even use a small image for the menu title (no more than 28px high). Make it transparent for best results.
TIP: Select the "External Page" URL type and include the whole address if you want to link to a certain page on a specific blog within your multisite network.
Select "Administrative Page" if you want to direct users to one of their admin tabs. And select "Site Page" if you want to include the domain.tld of the site being viewed.
Looking for more awesome WordPress multisite plugins? Checkout our list of all the plugins we use to power the Tripawds community or check out everything WPMU Dev has to offer!
And don't miss my recent guest posts on ProBlogger about building an online community: