We just disabled the Smells Like Facebook premium theme we had activated for use on Tripawds Supporter blogs. In fact, we deleted the theme files altogether because we don't intend to bring it back. Why? Because we don't want to smell like Facebook around here anyway.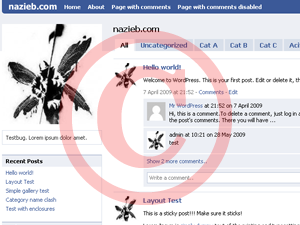 I just read over on the  WPCandy WordPress News blog about how Facebook sued the theme developer over copyright infringement. As if a simple cease and desist letter from such a behemoth wouldn't do the trick, the company filed three charges against the theme developer with a maximum penalty of more that $220,000. Cough.
As a small user supported community, we don't care to go anywhere near there. Facebook has every right to protect their intellectual property, but to sue some guy who gave away a free blog theme for six figures!? I'm just sayin' …
What I am sayin' for any Tripawds bloggers who may have activated the Smells Like Facebook theme on their site is, don't panic. If you see a blank white screen when trying to view your site, it is not broken. Simply visit the Appearnace tab in your dashboard by visiting yoursite.tripawds.com/wp-admin and selecting a new theme.
Who knows how Zuckerberg may unleash his legal dogs on all those sites out their unknowingly using a theme that infringes on his copyright. But I do now how Facebook came up with the huge penalty. That's probably what they had to pay their lawyers to file the charges!