For quite some time now—a few years, in fact—we've been working feverishly behind the scenes here at Tripawds on the third major overhaul to the News Blog and discussion forums since Jerry first inspired us to start this site. If all goes as planned, things will soon look a lot different, be more stable, and work much better on all devices.
Nothing is required on your part, other than your patience during this long awaited transition. We have a select team of Tripawds members helping to ensure the new site is ready for prime time. Consider this fair warning a heads up that one day in the coming weeks the site may be unavailable for a while. We will do our absolute best to keep downtime to a minimum.
NOTE: All Featured Blogs and Member Blogs will remain accessible during the makeover! Only the main site and forums will be affected.
The Shape Of Things to Come
For the first time ever, Tripawds is being re-branded. We are retiring the original logo inspired by Jerry, and replacing it with a badge of honor that represents the power of three paws—for both dogs, and cats!

A Sneak Preview
Clarity, performance, and functionality on all devices are the primary purposes for this overhaul. The new design is faster, cleaner and mobile friendly.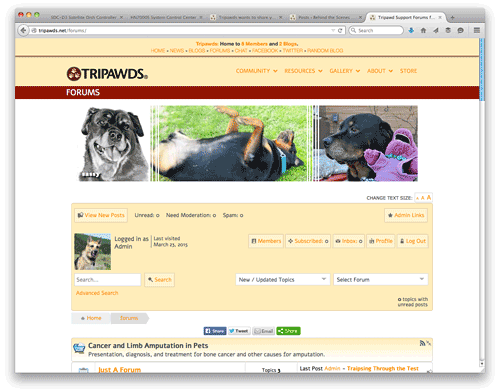 We will still feature random Tripawd Angels on certain pages. The home page is being trimmed down to quickly and more easily direct new members to the most helpful resources. And site menus are being restructured to help users easily navigate the vast resources available.
Most content will remain the same, but we do have a few surprises in store. The major difference will be how information is presented, but we promise the change will not be too drastic. Familiar forum layout and functionality shall remain—just look and work better!
Any Questions?
Please post in this Tech Support topic with any questions or concerns. Thank you for your patience and support!
If you appreciate all the efforts that go into the incredible undertaking that this overhaul entails, please consider making a charitable contribution to the Tripawds Foundation 501c3 public charity, created to ensure this community remains online and free to use.
Please stand by…