Allow me to brag for just a moment…
More than four years since we sold our graphics business, I am happy to announce that I finally updated our company website. And in doing so, I have launched my latest WordPress multisite community. I'll provide details about any hacks I make, and review multisite plugins I deploy in the future. For now I thought I would just share the content focus, for anyone not interested in the technical side of things.
Since we hit the road after Jerry lost his leg, there really hasn't been any reason exciting enough to update our Agreda Communications site. I basically put up some links to Tripawds and our LiveWorkDream blog and left it alone. After traveling the country for three years in search of the next big thing, however, we found it.
The new and improved Team Agreda portal provides information about the new home-based wellness business we have launched, and how we help others do the same with:
No startup costs & no inventory to stock
No selling or sales quotas whatsoever
No shipping products or billing customers
Free lead generation websites
And absolutely no risk!
Interested? Contact us for complete details!
At first glance agreda.com doesn't look like any sort of multi-user blogs community. That's because I've made it private. We will be creating free lead generation sites for business partners and making certain value added content visible only to them using the Membership plugin from WPMU Dev. This will allow us to hide specific pages and other content we only want team members to see from the general public. Anyone who visits the site will still be able to read our biography, review the FAQs and contact us.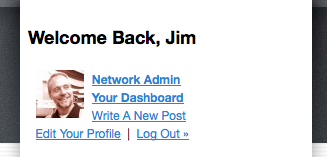 I would like to give one shout out to Josh Parker for his WPMS Sidebar Login Widget. After spending hours trying to hard-code a login/profile panel into the sidebar like we have on Tripawds, this plugin did the trick in minutes.
Now our partners can log into their dashboards from the main site to reveal members-only content. Thanks Josh!